A class 3 run through a seldom visited part of Southern Chile. Flowing off the snowfields of Cerro Puntiagudo, the Coihueco provides for some spectacular scenery and a nice day of mellow whitewater in the Region de Los Lagos.
To reach the river from Ruta 5 take the paved road to Puerto Octay. From here travel east around the north side of the lake for 44 km. Take the gravel road to the left for 25 km. En route you will pass over Puente Blanco (which offers a short 2 km low volume run) and Puente Chapulco before traveling up the Coihueco drainage. We reached a locked gate on our Jan 2011 exploratory run so made this our takeout. At this point there is an unlocked side-road which leads down to the river. The GPS coordinates of this point are 40°57'35.22″S and 72°28'12.76″W and the elevation 275 meters. The flow we had in January at the takeout was around 500 CFS.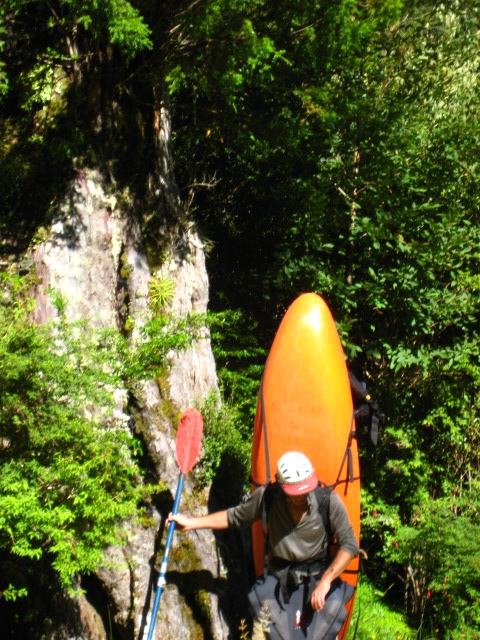 The giant Mañio tree that marks trail to put- in
To reach the put in we shouldered our boats and climbed over the fence and started walking upstream on a logging road. After 6 km a small hidden trail leads down to the river. The trail can be spotted as it is opposite a massive Mañio tree. Here the river is about 1/4th of the size as at the takeout but it quickly grows while heading downstream. Put in elevation is 340 meters.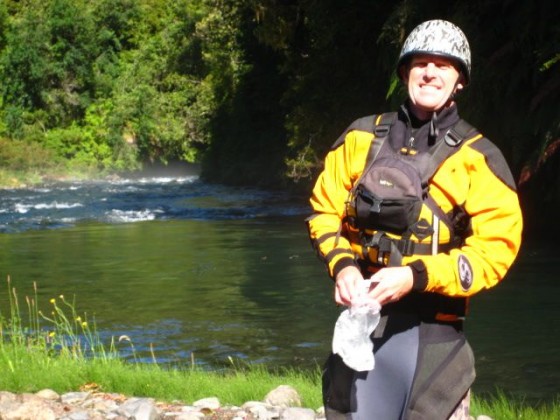 Fields Marshall at put-in
The 7 km stretch drops on average 11 meters per kilometer or 55 FPM. Although lacking in whitewater the trip is a pleasant float through Chilean forest with lots of birds and camping opportunites.
Other nearby rivers include Petrohue, Bonito, and Rio Blanco de Coihueco
Topo map of area is titled Cabildo Rupanco IGM034 and Cerro Puntiagudo IGM 035