The Rio Jeinemeni flows through a very unique part of Chile. Located in Aiysen in the 11th Region of Southern Patagonia, the Jeinemeni is one of the upper tributaries of the Baker and empties its waters into South America´s second largest lake Lago general Carrera at 202 meters above sea level. Born in the glaciers of the 2600 meter Cerro Jeinemeni, The river Jeinemeni flows northward for 57 km. Its lower reaches form the border between Chile and Argentina and divide the towns of Chile Chico and Los Antiguos.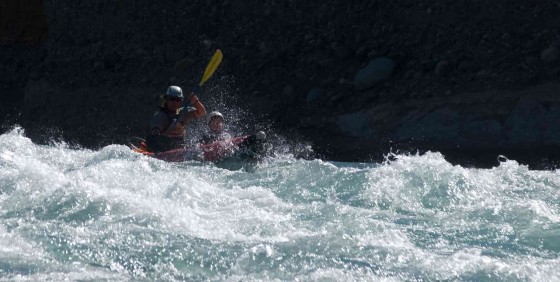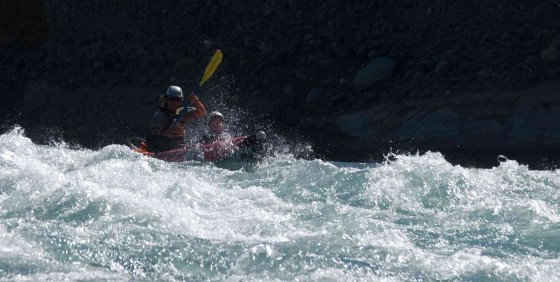 Andres and Atila on the Jenimeni
The river is runnable year round with mostly class 3 rapids but when it rains in the headwaters the river rises rapidly and turns into pushy, continuous, chocolate colored class 4+.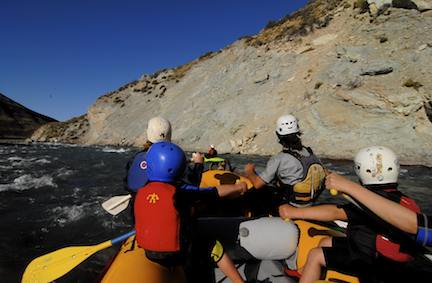 Rafting on Jeinemeni
Normal summer flows are 500 CFS or 15 CMS which is adequate for kayaks or rafts.
The river can be run source to lake with no portages and offers plenty of quality overnight camping opportunities. The best day stretches are closer towards the source. The upper stretch is from the lake 820 meters elevation 12 km down to middle put in at Fundo El Pato 648 meters elevation (just below Rio Sucio) 46°47'59.17″S, 71°53'40.18″W After heavy roads it might not be possible to reach the upper stretch as the side creeks on the way up are un-passable.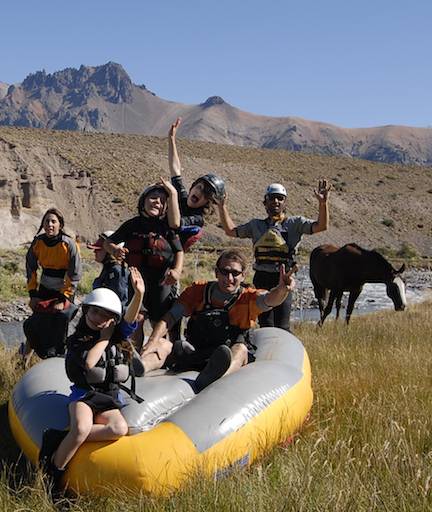 Put in for river

The take out at Fundo El Pato is also the put in for the middle stretch out . The takeout is at 573 meters elevation and 9.8 KM downriver at 46°46'24.50″S
71°47'20.78″W. This stretch averages 7.65 m/km or 40 FPM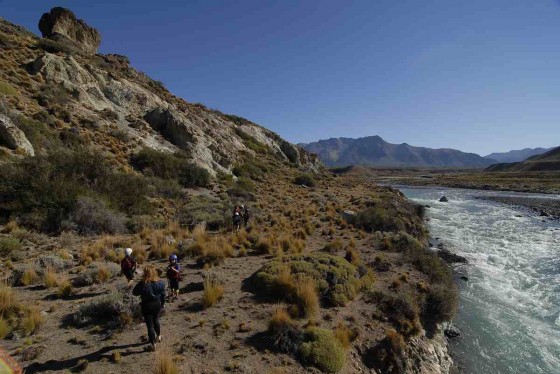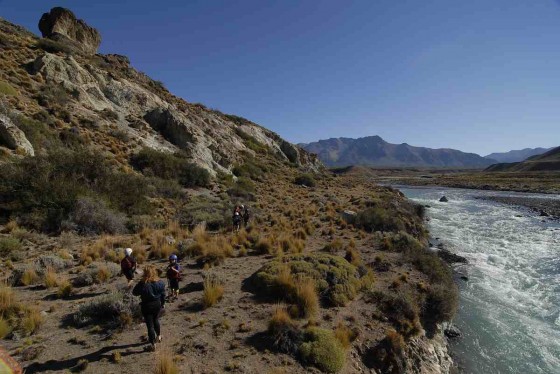 Side hike Jeinemeni canyon
Along this stretch the Rio Zaballo enters from Argentina. Just below this get out on river right and look for some caves the Puma use to eat their kill. These sheltered alcoves in cliffs are stacked high full of bones and if one looks closely will see ancient Petroglyphs of the Tehuelche culture.
To get to river go east 1 KM from town of Chile Chico, 160 km south of Coihaique, and turn right on gravel road marked with sign to Reserva Jeinimeni that also leads to local airport. It is 31 km to the middle takeout which is a marginal dirt track that swithbacks down to the river. It is 42 km to the dirt track leading down to the middle put in which can be spotted a few hundred meters after passing a small lake on river right with pink flamingos
Note: one can also follow a road up the Argentinian side and access put in and take out points from the east but the access is much more restricted. At higher flows a good option from the Argentine side would be to start on the Rio Zeballo and take out in Los Antiguos some 43 plus km downstream
Other nearby rivers include Aviles, Baker, Chacabuco and Cochrane.
Topo maps 1:50,000 Lago Verde, Río de Las Nieves, Chile Chico