Directions to and from put in:
Taking the international road from Pucon towards Caburgua you will cross the Trancura river at Puente Metreñehue after a distance of 10 kilometers. Then 0.6 kilometers on the other side of bridge you will take a left (opposite a church called Capilla Santa Cruz) which has signs for camping Manzano and Ecoparque.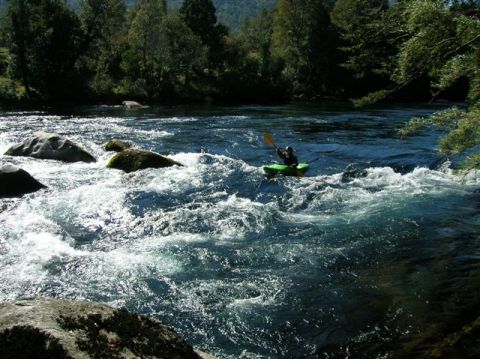 Eva Luna Ramirez on the Lower Liucura
You may enter the Lower Liucura in one of two different ways.
Option 1- 0.8 km from the main road there will be a turn right towards camping Manzano follow the signs to camping Manzano. The entrance at camping Manzano provides a 1 kilometer or so of flatwater to warm up before the first rapid. Expect to pay a small entrance fee.
Option 2- 1.3 km from the main road there is another turn to the right. Follow this road to the end where it meets with the Liucura at a public launch point.
Both put-ins are very easy – the put-in at camping Manzano offers a nice flatwater warm up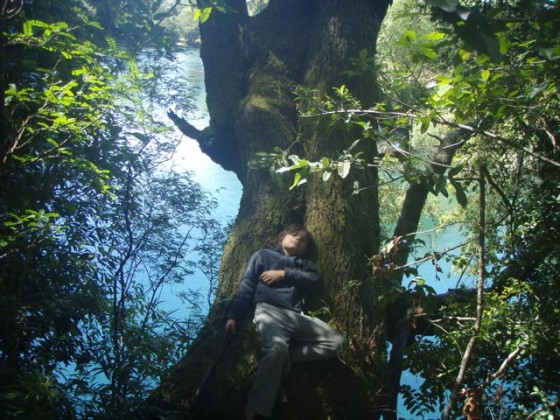 7 year old Pablo Casey relaxing on a tree above the breathtaking Lower Liucura River
The normal takeout is the suspension bridge over the Trancura river at Pasarela Quelhue. From Pucon go o international road and turn left just before the airport. There is a sign that says Pasarela Quelhue and another that says Aerodromo Pucon. Follow this gravel road for 2 km to swinging bridge. Due to occasional break vandalism it is best not to leave a vehicle unattended at the bridge. A suggestion is to find a driver in Pucon at one of the raft companies. Many guides will drive for you for $ 5,000 pesos.
The Liucura is cold water, year round, class three read-and-run with the exception of the final major rapid called "La Leona" which is soon after the junction with Rio Trancura.
Length of run: 45 minutes to an 1 hour.
Other fun stuff to do in area (hot springs, good food, hikes, camping, horse riding, etc)
The lower run has a well known play spot about 1 km below put-in that is best in low water February and March.
There is an upper Liucura run that is only fun during higher water months. It can be also be partially run by putting in on the Coilaco