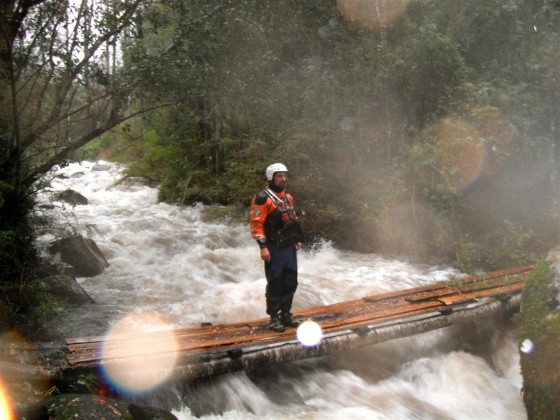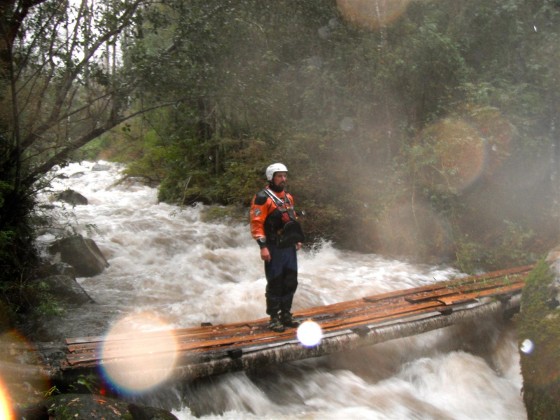 The Rio Claro is a small creek in downtown Pucon..It is more of a novelty run for locals in the winter months or when everything else is too high.. Logistics are absolutely simple.
The creek flows off the NE flank of Villarrica Volcano and is a source of Pucon´s drinking water. It is 3 KM long and drops 120 meters with average gradient of 40 m/km or 200FPM…Good flow is estimated to be 150 CFS or 5 CMS
From downtown Pucon take the international road East towards the airport. About 500 meters after the traffic circle you will cross Puente Claro. Proceed another 150 meters and you will see a second bridge off to your right. This is the takeout. At 39º17´27.65¨S, 71º55´51.56¨W, elevation 245 meters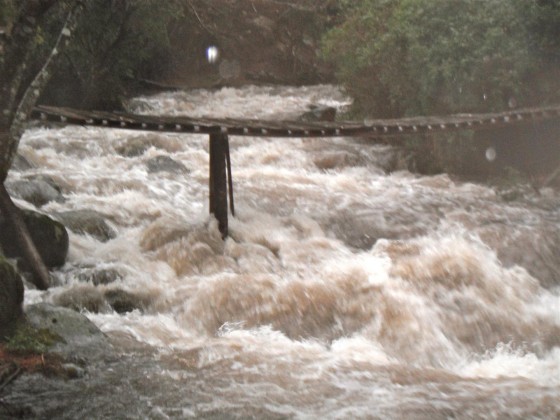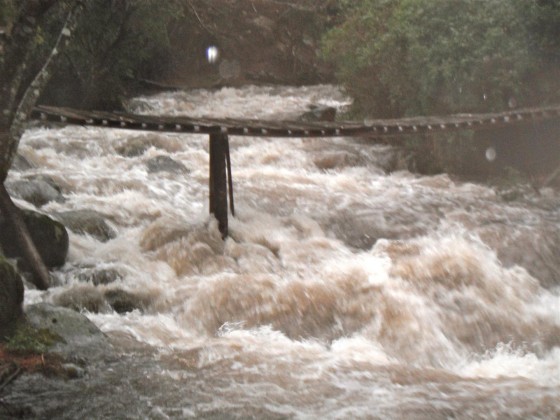 To reach the put-in continue heading East for 2 KM. The airport runways will be on your left when you find an optional turn to the right at an old abandoned yellow school. A sign here says Club de Huasos Pucon. Follow this road for exactly 2 KM. the first 1 KM is relatively flat then the road curves and climbs steeply for another 1 km. Park on the side of this small country road and jump over the barbed wire fence, head across a field and descend down to the creek.
There is a water pumping station that serves as a good access point to river but be aware of a potential low head bridge just downstream. Coordinates are 39º18´39.81¨S, 71º55´30.15¨W elevation 365 meters
The first 1 km is basically one continuous rapid that quickly tapers off into swift moving flatwater. The dangers are from trees that have fallen into the river or that are alive and growing in the river channel. We had a few portages where it was too overgrown to boat and around one dangerous barbed wire fence.
Overall summary of river is interesting but not really worth doing unless someone does some chain saw work to allow for a higher put in.
The first descent of this run was done by Ben May and Kurt Casey after heavy rains on June 10, 2011.