A fun creek run flowing off the Cordillera Huerere into the Northwestern corner of Lago Colico in Chile´s 9th Region de la Araucania. The roadside run is low volume with good gradient, and crystal clear water flowing through a still predominantly native forest. Codihue is a local Mapuche (Mapudungun) word meaning ¨place of rocks¨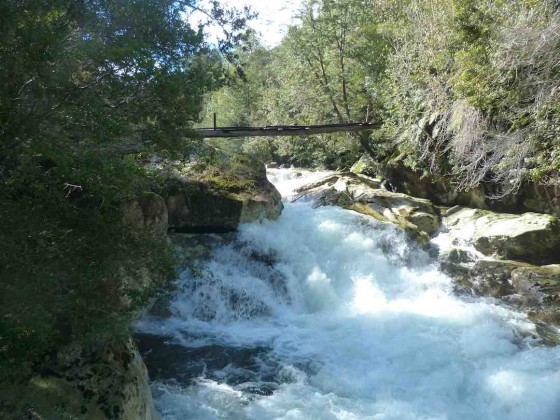 Class five lead up to the waterfall
The takeout is only 90 km from Pucon so makes for a good day run or because of its high quality camping options, can be combined with other local runs to serve up a multi-day itinerary.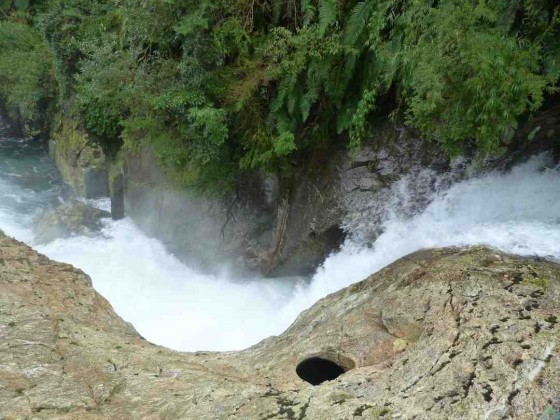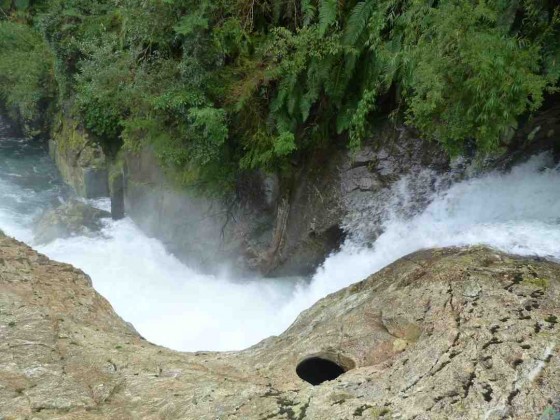 6 meter falls into the pothole
To arrive from Pucon first travel to Villarrica then turn north and follow interlagos road towards Cunco. Before reaching Cunco turn towards Lago Colico. A few kms before reaching the lake is a left hand turn that says Tres Horquetas and Codihue. Take this turn and pass a Pisicultura (fish farm). In 2 KM you will come to a bridge which is the simplest takeout option. At elevation 400 meters.
Continue 5 KM upstream to elevation 600 meters and put in where ever you have seen enough. The road can be very rough and muddy after a strom and will require 4 wheel drive in some spots and good clearance.
The 5 KM run drops 200 meters or 40 m/km average with the bulk of the class 4 action in the first 3 km tapering off to class 2. A good level is anything over 250 CFS.
In the first km you will come to a class 5 rapid leading into a 6 meter waterfall that lands in a pothole. This drop can not be seen from the road so take care approaching it. The right wall cliffs out so a portage on the right is not an option .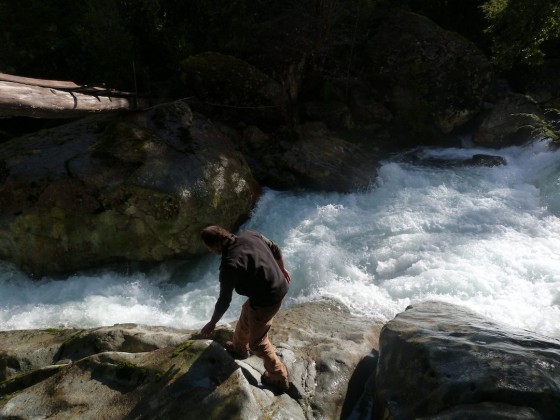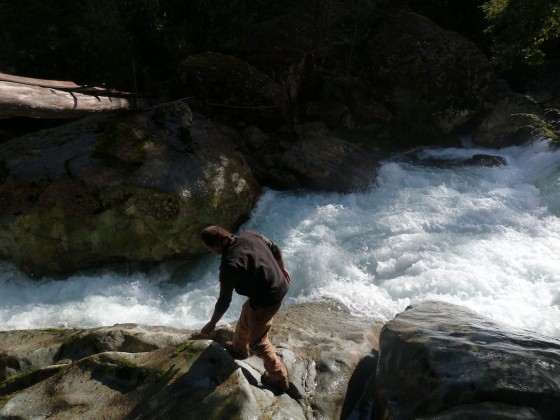 scouting on the first descent
This run requires a lot of rain so is only runnable after prolonged precipitation.
Other nearby runs include Trafampulli, Calbuco, Truful Truful and Curaco
Although a short run there are 3 overlapping topo runs that cover its course. Lago Huilipilun G-095, Nevados de Carburgua G-096 and villa Garcia G-085
Note: Although the topo maps indicate the river up the Codihue continues up and over mountains into the Allipen drainage, this is not the case. The road dead ends high up in Alto Codihue